Elevate Your Life with Trusted Audiology Care
Welcome to
Elevate Audiology - Hearing & Tinnitus Center
Elevate and empower patients' lives by providing superior education, transparent treatment options, evidence-based hearing and tinnitus care, and an excellent patient experience.
Testimonials: Hear From Our Patients
We create a plan
TOGETHER
that works for you.
Our Approach to Tinnitus
The Elevate Audiology Approach to Tinnitus: Education Is Key!
The majority of those with tinnitus do not consider it to be bothersome, meaning it does not affect their daily life. For others, it is life-changing in a negative way. Our approach is to learn more about your symptoms, history, auditory system, and how tinnitus affects your life. We always start with a diagnostic hearing evaluation to learn more about the health of your auditory system. This gives us insight into our next steps: education, tools, and resources. Some patients need basic counseling and some need more structured treatment plans.
Schedule a tinnitus appointment with us today to take the first steps towards relief.
Patient Reviews
I felt the hearing tests at Elevate Audiology were three-fold more extensive than what I had previously received on an earlier singular hearing test at another hearing center about 4 years ago. Calvin S – November 2, 2020
The Audiologist was VERY knowledgeable and caring. She not only dealt with my hearing loss, but also with my tinnitus and my present sound sensitivity. I'm a retired molecular biologist that went into music cognition studies and decided to provide musical entertainment to seniors (including those diagnosed with dementia) in retirement communities, so being able to hear clearly is very important. I will now be able to address all my hearing concerns in one office with one doctor. I highly recommend! it.Irene S – December 3, 2020
My experience today was outstanding!! First of all, I liked the fact that Dr. Tarvin was wearing a mask. As always, she was very professional and went the "extra mile" in cleaning both my ears, dehydrating the hearing aids, cleaning the hearing aids, and providing me with the supplies for the next few months. All of this was done with a smile on her face. I am actually looking forward to my next appointment with her! Mark M – December 4, 2020
Our Location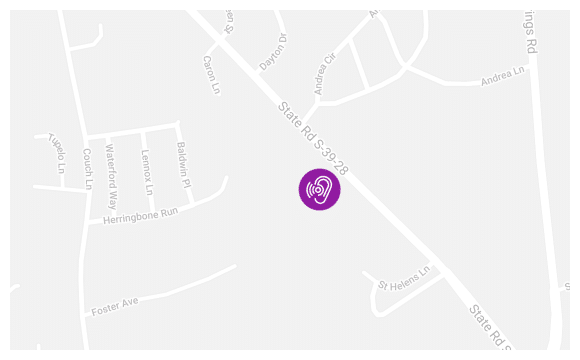 HOURS:
| | |
| --- | --- |
| Mon: | 8:30am - 4:00pm |
| Tue: | 8:30am - 4:00pm |
| Wed: | 8:30am - 4:00pm |
| Thur: | 8:30am - 4:00pm |
| Fri: | 8:30am - 1:00pm |
Contact Us
If you are experiencing a medical emergency, please call 911.