Without batteries, your hearing aids would be unable to function. To keep your devices running as smoothly as possible without interruption, there are a few things to know about hearing aid batteries. We've put together some common questions and answers that should help you get the most from your hearing aid batteries.
What Kinds of Batteries Do Hearing Aids Use?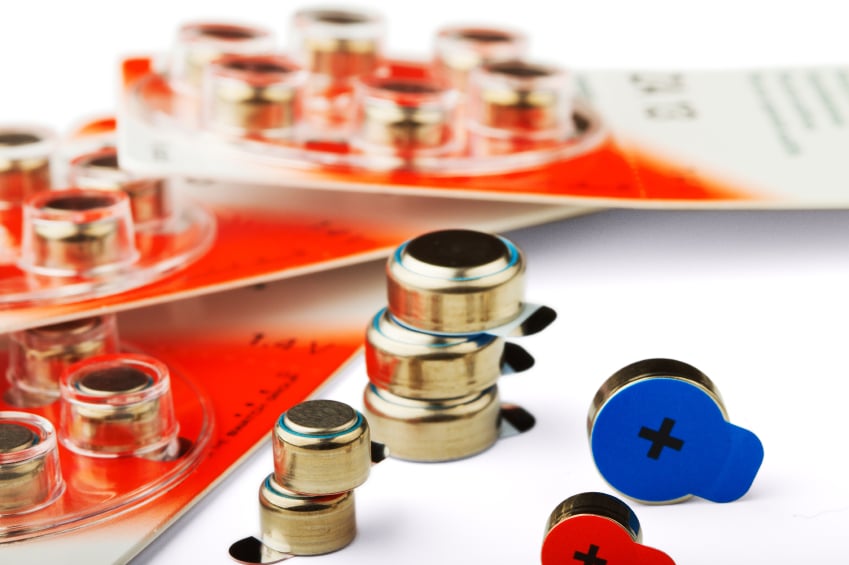 Non-rechargeable hearing aids use disposable zinc-air batteries that are color- and number-coded for easy replacement. The type of battery needed depends on the style and size of your hearing aids and includes: 10 (yellow), 13 (orange), 312 (brown) and 675 (blue).
We sell high quality replacement batteries at a competitive cost at Elevate Audiology. They can also be purchased from a variety of stores or online. Be sure to check the expiration date when purchasing in the stores.
How Do Zinc-Air Batteries Differ From Other Battery Types?
Zinc-air batteries require oxygen to produce power. They come with a protective seal on the back; once this is removed, oxygen enters through tiny holes to activate them. You should wait at least a minute before inserting your batteries to ensure they have absorbed enough oxygen in order to work properly.
How Long Will Hearing Aid Batteries Last?
Battery life varies depending on the size and style of your hearing aids, your degree of hearing loss, the amount of time your hearing aids are used, your listening environment and if you stream media.
How Will I Know When It's Time to Change the Batteries?
Most hearing aids have a battery warning sound that can be demonstrated during your appointment. If there is no sound coming through your hearing aids, your first suspicion should be a dead battery.
Are There Steps I Can Take to Extend Battery Life?
Store your batteries at room temperature and avoid exposing them to moist or humid environments. This includes the refrigerator – despite what you may have heard, this is not a good place to keep your batteries as temperature extremes and condensation can shorten their life.
Keep batteries away from keys, coins and other metal objects that can cause them to short circuit or discharge. When removing your hearing aids, turn them off and open the battery compartment door to prevent excess moisture and battery drain.
Rechargeable Batteries
Rechargeable hearing aids are one of the top most requested features that hearing aid uses are asking for. They free users from having to deal with the tiresome task of changing the batteries, performing daily battery tests and always carrying around extra batteries. Rechargeable batteries are also environmentally friendly as they save users from throwing away nearly 100 hearing aid batteries per year.
The benefits of rechargeable batteries plentiful:
Your charger can be your devices' overnight home so you don't have to worry about losing them.
You don't need to worry about having extra batteries on hand.
You will save time and money by not having to purchase disposable batteries.
Many rechargeable batteries can provide up to 24 hours of hearing from a single charge. The hearing aid may also include a fast-charging option, which gives uses a few hours of immediate use.
Collect Your Used Batteries
Collect your batteries as you use them and bring them to your next appointment or stop by and drop them off. We collect them and recycle them on your behalf.
Call Elevate Audiology at (864) 442-5555 for more information or to schedule an appointment.