Audiologist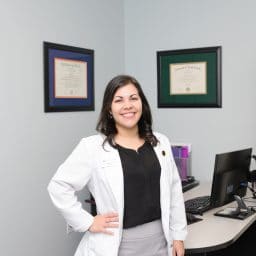 Dr. Alexandra Tarvin is the founder of Elevate Audiology. She is a highly-trained audiologist focused on patient needs with expertise in evaluating and treating hearing disorders, fitting hearing aids, and advising on tinnitus management. She works diligently to stay informed and up-to-date for her patients establishing herself as one of the top audiologists in the nation. Dr. Tarvin has presented at multiple conferences on the state and national level.
She is most proud of her patients' trust and successes. Many patients have reported that they were delighted that they came here with their audiology needs and received levels of care above and beyond their expectations. This, above any other professional accomplishment, is our greatest source of satisfaction.
Alexandra Tarvin, Au.D. is American Board of Audiology Certified. Dr. Tarvin received her Doctor of Audiology degree from the University of South Florida and her Bachelors in Communication Sciences and Disorders from the University of Florida. Dr. Tarvin completed her residency at a not-for-profit audiology institute in Louisville, Kentucky where she practiced all audiology specialties and focused on adult diagnostics and treatment.
She started her professional career in Greenville, SC prior to starting Elevate Audiology. She is a twice published researcher completing her audiology doctoral project, entitled Acceptable Noise Level and Hearing Aid Noise Reduction, which has also been presented at multiple conferences.
Dr. Tarvin is a Certified Fellow of the Tinnitus Practitioners Association specializing in tinnitus and sound sensitivity, member of the American Tinnitus Association, volunteers as Technology Chair and former President of the South Carolina Academy of Audiology, and is a committee member of the Academy of Doctors of Audiology. She is a passionate advocate for access to audiology services and regularly participates in lobbying efforts to increase audiology awareness and services within the healthcare system and received an award in 2017 by the Academy of Doctors of Audiology for her efforts. She is originally from Queens, NY and grew up in central Florida. She lives in Greenville with her veteran husband Brennan, son Miles, and dog Colby.
The American Board of Audiology Certification credential recognizes those audiologists whose knowledge base and ethical practices are consistent with professional knowledge through life-long learning. The ABA creates, administers, and promotes rigorous credentialing programs that elevate professional practice and advance patient care.